lol surprise dolls reviews & where to buy lol surprise dolls?
Friday, 27 October 2017

3

686

0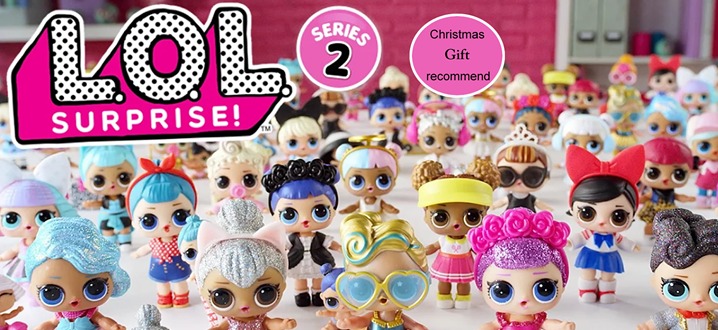 One of the setbacks of not subscribing cable is absolutely not cool for a mother if you are not up-to-date on all the so-called hot toys. Some kids include this in their wish list – an LOL doll. So if you're looking for fun-stocking stuffer gift for your children, this toy is a super surprise fun collectible.
It is seldom children find as much fun in removing a toy's wrapping as they do in playing with it, yet half the thrill of LOL Surprise comes with taking out the dolls from inside their packaging. LOL Surprise is from MGA Entertainment that is founded in 1979. This innovative fun packaging would not make the toys easy to get misplaced.

Every single LOL Surprise doll has a number of unexpected features that children can find as they remove the wrapping of each layer of fun. As a matter of fact, there are seven layers of great surprises, which include dresses, accessories, shoes, collectible stickers, secret messages, a water bottle for each character and the doll itself. Each layer has a cute tiny printed zip design that is pulled to reveal these surprises. At the end, a little purse can be found. It can be a bath or tiny home for all of them to hang out in.

The pretty dolls are wrapped in layers made of plastic for children to remove one by one. This is the suspense of discovering what is inside each layer of the surprise, which adds to the fun. That mystery will also stay fresh with every doll unwrapped, whether it will show a Line Dancer, Merbaby or a Surfer Babe. Bottom line is that every doll has a unique look. Some hidden surprises are in bath bombs that should be submerged in water to reveal the playthings.

To be more specific, your children may expect upon peeling away each layer the fun things as follows:
Layer 1. It has a secret message that might match one of the dolls the children collect.

Layer 2. It reveals the collectible stickers.
Layer 3. It contains the bottle.
Layer 4. It reveals the shoes.
Layer 5. It contains the doll's outfit.
Layer 6. It has the accessories.
Layer 7. Finally, the piece de resistance – the LOL Surprise doll, of course!
Outfit possibilities are in a wide range, from a punk rock outfit to a Miss Baby pageant dress. The outfits could be matched and mixed between the dolls. The series is separated into eight different clubs; thus, children may end up in having the sparkly Queen Bee, which is from the Gliterrati, with their initial doll and the Baby Cat that is from the Theater Club with the next.
Anyway, in the end, kids will receive one of the forty-five dolls in the first series. These pretty dolls live up to its name. The dolls can cry, pee or spit, which the little kids love. A Merbaby doll spits up water. This can be done by having water administered into its mouth with the use of a bottle, then pinching the dolls' head to see where it is going to come out the next time. Be alert though, as the water can get some distance. You might get wet when one of your kid's dolls spit up.
Some of the dolls change their color when they are plunged in cold water. Their style is decked out further by sassy streaks in their pretty hair and funky makeup. Some of these have color-changing outfits, and the accessories can be interchanged.

Every doll really has a style that is unique. The water bottles are also diverse from trendy mason jars to coffee cups. (Did you know cups as well could be trendy in this era?) The dolls' particular looks and their mix-and-match accessories differentiate each other from other collectibles. So do their various options for play. As mentioned above, the purse or pod wherein the dolls are packaged in has many functions that can serve as their bathtub to bathe the doll, as a doll stand, as a hangout area and as a purse , as a hangout area and as a purse.

These LOL Surprise dolls are recommended for children with the age of three years old and up. Bear in mind, however, that there are so many small parts like the bottle and shoes, which are easy to choke on and must be kept out of reach of small kids who have the tendency to put these in their mouths. Adult supervision when children are playing with this toy is highly recommended to avoid mishaps.
Whatsoever their preferred style is, the children can collect all these forty-five LOL Surprise dolls to find the ones that they like best and suit them. They can bring the baby run world to life.

Where to buy LOL Surprise dolls?

Currently, majority of the shops has already, unfortunately, run out of stock. When will this be in stock? Do not worry. Aside from the second series of these collectible dolls that is already on the market, a mega version of this year's well-known toy is tipped to be around and is a must-have present for little kids this Christmas.
This limited edition is super-size, which is LOL Surprise's Big Surprise ball. It is said to cost a whopping £59.99 (approximately US$78.45) – majority of the retailers sell the toy for this amount. The toy's super-size version has fifty gifts for kids to peel away the wrap.

Below is where you can buy the toy where it is usually on sale and in stock:

1.Tesco

2.Argos

3.Smyths

4.The Entertainer

5.Toys R US

If the local store nearest you is out of stock, you can be alerted when the LOL Surprise's Big Surprise is available next through signing up on Stockinformer.co.uk site. You will receive email alerts when this toy is in stock. A lot of retailers will get their stock at various times. In addition, you can also sign up directly from retailers for alerts, including The Entertainer.

Otherwise, you can order LOL Surprise doll online through Amazon. The e-commerce giant currently offers free delivery (in the U.K.) when you order over £20 (approximately US$26.17).